LiveBarn Ranked 40th of 400 Fastest Growing Companies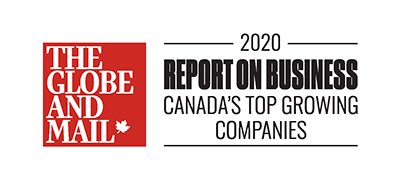 LiveBarn places No. 40 out of 400 on The Globe and Mail's second-annual ranking on the 2020 Report on Business ranking of Canada's Top Growing Companies. Canada's Top Growing Companies ranks Canadian companies on three-year revenue growth. LiveBarn earned its spot with growth of 1,283%.
Launched in 2015, LiveBarn is the leader in amateur sports broadcasting in North America, servicing tens of thousands of customers through partnerships with over 700 venues across North America, encompassing over 1,200 playing surfaces. LiveBarn's cutting-edge technology uses a proprietary tracking system that automatically follows the flow of the game. Our 180º technology provides viewers with even more options than a traditional television broadcast. Broadcasts are available via desktop and mobile browsers as well as the LiveBarn iOS app.
Users can download 30-second highlight clips or 30-minute video segments. All subscribers can now take advantage of My Highlights – a live tagging feature that allows users to automatically save highlights while watching live, in venue.
LiveBarn's venue partners include private and public facilities, as well as both NHL, AHL, NCAA and LHJAAAQ affiliated arenas. This includes 16 NHL partners (Penguins, Kings, Islanders, Sharks, Stars, Avalanche, Hurricanes, Wild, Coyotes, Blackhawks, Blue Jackets, Predators, Jets, Ducks, Panthers & Blues), the NSC Super Rink (the largest rink facility in North America with 8 sheets of ice), and the Lou Berliner Sports Park (the largest US baseball/softball diamond complex).
Launched in 2019, the Canada's Top Growing Companies editorial ranking aims to celebrate entrepreneurial achievement in Canada by identifying and amplifying the success of growth-minded, independent businesses in Canada. It is a voluntary program; companies had to complete an in-depth application process in order to qualify. In total, 400 companies earned a spot on this year's ranking.
The full list of 2020 winners, and accompanying editorial coverage, is published in the October issue of Report on Business magazine—out now—and online at tgam.ca/TopGrowing.
"The stories of Canada's Top Growing Companies are worth telling at any time, but are especially relevant in the wake of COVID-19 pandemic," says James Cowan, Editor of Report on Business magazine. "As businesses work to rebuild the economy, their resilience and innovation make for essential reading."
"Any business leader seeking inspiration should look no further than the 400 businesses on this year's Report on Business ranking of Canada's Top Growing Companies," says Phillip Crawley, Publisher and CEO of The Globe and Mail. "Their growth helps to make Canada a better place, and we are proud to bring their stories to our readers."
About The Globe and Mail
The Globe and Mail is Canada's foremost news media company, leading the national discussion and causing policy change through brave and independent journalism since 1844. With award-winning coverage of business, politics and national affairs, The Globe and Mail newspaper reaches 5.9 million readers every week in print or digital formats, and Report on Business magazine reaches 2.1 million readers in print and digital every issue. The Globe and Mail's investment in innovative data science means that as the world continues to change, so does The Globe. The Globe and Mail is owned by Woodbridge, the investment arm of the Thomson family.
About LiveBarn
Launched in 2015, LiveBarn provides Live & On Demand broadcasting of amateur and youth sporting events. Our patented technology and camera system automatically follow the flow of the game – similar to a traditional television broadcast. LiveBarn currently broadcasts from over 1,000 facilities, including hockey, baseball, soccer and basketball venues. We are constantly adding new venues and features, further cementing our status as the largest amateur sports broadcaster in the world. For more information, please contact Ray Giroux, COO at ray@livebarn.com
https://news.livebarn.com/wp-content/uploads/2020/10/LiveBarn200.png
0
0
Kristina Young
https://news.livebarn.com/wp-content/uploads/2020/10/LiveBarn200.png
Kristina Young
2020-09-25 15:07:00
2020-10-23 11:48:37
LiveBarn Ranked 40th of 400 Fastest Growing Companies